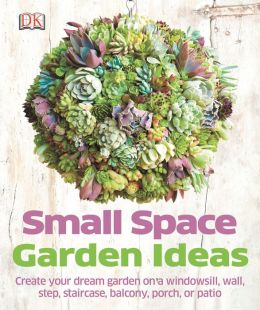 My past experience with garden idea books is that many of the projects they contain require one or more of the following: specialized materials, expensive materials, hard to find materials or things that I may need to special order.  The projects themselves are not always something I would have a place for in my garden.  Sometimes the projects are just not my style, or anyone else's that I know for that matter. And other times I find that the projects contained are just variations along one theme.  None of those descriptions fit the 40 plus projects described by Philippa Pearson in Small Space Garden Ideas.
The first 5 chapters of the book (Micro Garden, Let It All Hang, Grow Up, Contain Yourself, and Go Wild) help divide the projects into categories.  The choices cover a wide range of skill levels, time requirements and are for both inside and outside locations.  Once you figure out the kind of project you are wanting, you will find that each project begins with a list of materials, including suggested plants.  Please note: the author is from the U.K.  If you are located elsewhere you may have to find comparable plants to those listed in the book.  Some will work well in various locations, while other may need to be substituted.  This in no way takes away from the book, if anything I enjoyed seeing the ideas from a gardener across the pond.  Variety is the spice of life after all.
Following the list of materials are the projects steps.  These are written very clearly and pictures shown, of which there is not a lack.  A section about Care Advice is given at the end of each project description to help maintain what you have just created.  This last section was something I greatly appreciated.  Taking care of what you have made is sometimes tricky, so knowing ahead of time what to do will help you continue to enjoy your creation.
Personally, I'm looking forward to decorating my terracotta pots with both paint and decoupage, two of the projects contained in Small Space Garden Ideas.  What a great solution for the random pots I have in my basement.  These will be used on my back deck this summer.
My kids would love to take on the portable Kid's Miniature Barnyard Garden, complete with tiny plants, sown seeds, a pond, a fence and other features.  Philippa Pearson even describes how to make a scarecrow with twigs, hot glue and scraps of material.  The two items on list of materials I don't have can easily be acquired at one of the local department stores.
The last chapter of Small Space Garden Ideas, Plant Practical, has no specific projects but does contain a lot of useful information.  The focus of this chapter is on small spaces and containers, which often present unique trials of their own. Watering, composting, plant selection, and tools needed are just a few of the things you have to consider.  I appreciated the thoroughness taken with this chapter.  Pearson touches on some of the unique challenges small space gardeners face, giving suggestions and idea of how to address or overcome them.
Remembering to water my pots is something I struggle with.  Often I remember to water when I realize the plants are on the verge of dying.  At that point either the plants can't be brought back or if they do come back they are never reach their fullest potential of color or production.  This is one area of concern that she covers in the last chapter, including several solutions.  One of Pearson solutions is to make my own irrigation system, which should only take half an hour or so, after I have the supplies on hand.  The supplies themselves are things I already have around the house – an old hose and a bucket.  In seasons past, I have just over watered with a hose, hoping the plants would make it to the next watering.  Often the potting soil is so dry by then, the water would run between the pot and the dirt, not watering the plant at all.  Going with the suggestion Pearson gives, the pots should get a slower, more thorough watering.  My plants thank you.
If you are a gardener who is looking to spiff up your small space, or a gardener who has a small space they are looking to do something with I suggest checking out Small Space Garden Ideas by Philippa Pearson.
I received a copy of this book for review.  
This post contains affiliate links.