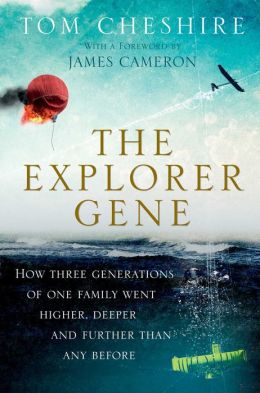 Growing up in a family of Star Trek fans, the name Jean-Luc Picard was as well known.  The character on the Star Trek show was the captain of a ship that traveled through space exploring places humans had never been before.  He had a strong sense of right and wrong, as well as compassion.  It seem as if there was nothing that was beyond him knowing, but if there was he knew who to ask to find the answer.  I had always wondered where the name for this character had been chosen.  It didn't take too long into reading The Explorer Gene for me to figure out, it was like the fictional character had come to life.
The real life Piccard family was just as adventurous and daring as the captain of the starship.  They too were a family focused on science for science sake, not explorers set out to break records and leave their name on history.  It is because of the accomplishments of generations of Piccards that we have been to the depths of the ocean and heights of the stratosphere.  It is thanks to this family that we have the ability to predict weather as well as we can today and still have an ocean untainted by nuclear waste.
Things I take for granted, the Piccard family questioned and set out to prove.  One of my favorite lines in the book makes the point that just because something hasn't been done before doesn't make it impossible.  This seemed to drive three generations of scientists – men who considered the smallest details on their journeys to explore the planet we live on and make their dreams a success.
The Explorer Gene: How Three Generations of One Family Went Higher, Deeper, and Further Than Any Before by Tom Cheshire told not only about the scientific discoveries of this family, but also about them as family men and what drove them to do what they did.  The paths they walked were not well traveled or straight, but they persisted and we are all the better for it today.
This post contains affiliate links.  I received a copy of this book for review.