I love looking at what other people are doing and seeing if it is something I can use.  Sometimes it is just beautiful and awe  inspiring.  Here are a few images of late that I have come across that made me think, "I want my garden to look like that".  Or, "Hmm.  I could do that but would need to tweek it a bit here to work for me."  This post plays two parts – 1) It reminds me of all the great ideas I have seen and where they are.  2) It shows you some of the different things I am looking at and where they might be found.
Cedar Fenced Raised Bed Garden Kits
Best Garden Beds – Raised Vegetable Garden
This is from a thread on GardenWeb.  I could post the whole thread here, if I was allowed to.  There were so many inspiring ideas for arches and trellises.  Take a look through the whole thing if you have time.  It shows progress of this garden, and others, over at least three different growing season.
This layout is close to what I was thinking of doing …
… but I think this fence looks neater and would be more manageable.  I really don't need anything tall to keep out rabbits and squirrels.
Now here is someone with an idea who made it become reality.  Smart thinking and great problem solving – raised beds with movable mini-greenhouses.
Talk about using what you  have.  I know of more than one barn/shed/basement with old shutters in them.  I can't find the link to the plans (only to the general page) to make this garden bed.  So, please, if you own these plans or know where to find them, let me know and I'll add the link.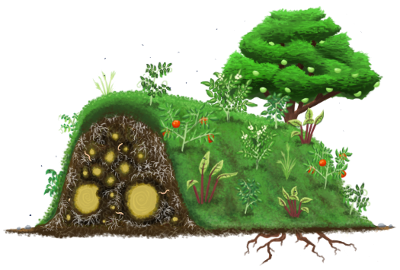 Hugelkultur garden bed after 2 years. Photo Credit: Permies.com
Hugelkultur is something I have only recently heard about. Have you?  (If not, check out Hartke is Online for a video and links to learn more.) I get it, I really do.  It makes sense.  It took someone with a problem who was looking for a solution and acted upon an idea.  Yes, it probably took several trial and errors.  However, if you know that the theory is true, then you just have to find the right way to apply it.
Just goes to prove that most of us think about what is already accepted as "the norm".  Who said that fencing has to open outward?  Gardens to Gro shows another way in one of the raised bed kits.
None of these are affiliate links.  Please do not feel that I am trying to pressure you into buying something.  My intent is only to show you the different ways you can do a raised bed and how you might set them up.
See anything that may you say "oh, now that is a great idea"?