This post contains affiliate links.  Thank you for helping support this blog.
Full Definition of PRACTICAL
1 

a

 :  of, relating to, or manifested in 

practice

 or action :  not theoretical or ideal <a practical question> <for all practical purposes>
  b :  being such in practice or effect :  virtual <a practical failure>
2 :  actively engaged in some course of action or occupation <a practicalfarmer>
The pictures in the collage above show items related to activities I plan to work on with Jack this week.  I believe it is pretty safe to say that these are things he would not be learning or working on if he was still going to Kindergarten at our local public school.  And that is very much okay with me.  (Not that they don't teach this way, but that he gets to do something different.)  This is a kid who rarely, if ever, sits still.  He would much rather be doing something, building something, or be outside.
First let me start with some of the basics we have been working on, then I'll explain the pictures above.
Each morning that we sit down to do something 'school' related, I give Jack a clipboard with several items already on it.  Right now that means a calendar, a double sided maze and cutting practice.  He can start on these while I get the other stuff organized.
The calendar is fairly basic, showing the month, year, days of the week and the date for each day.  In February we recorded the weather outside (sunny, rainy, cloudy, partly cloudy or snowing).  At the end of the month we made a chart showing how many days of each kind of weather had happened.  Turns out is was fairly sunny last month, which is odd for this part of the country this time of the year.
For March we are recording the temperatures.  Again I will have them show these on a graph of some sort at the end of the month.  I used a coupon to the hardware store in Small Town to purchase a thermometer for outside.  This week I will take him out and show him how to figure out how warm/cold it is.  This will require him to count by 2's, which will be good practice.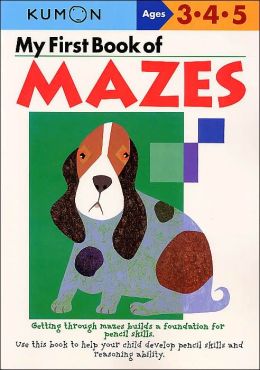 Jack only has two pages of mazes left to go before he finishes his My First Book of Mazes.  Last week he made a statement to the effect, "Mom, these mazes are boring." Translated that means, "Mom, I am getting better at these and feel the need for more challenge."  I see a new book in the near future.
The cutting practice is something I am using for a skill beyond cutting.  That skill is following directions.  This skill is not only one needed for learning, but also in life, and is an area Jack needs help in.  I am a bit stricter on this activity than I might otherwise be, since my goal is for him to follow directions, not practice using scissors.
We have been reading a fair amount.  Using several book lists I found online, we have requested a fair amount of books from the library.  I try to average a book a day each week.  Jack also is practicing his reading.  He is decent at this skill but does not want to do it.  Last week I gave him the incentive, "If you read 5 books, I'll take you to the doughnut shop."  We compromised and turned it into the ice cream shop.  If that is what it takes this week for him to read every day, then I will do it.  (Psst, Dairy Queen is offering free cones one day. 😉 )
So that is my basic list.  If nothing else 'school' gets done, then we at least have worked on numbers, reading, and a life skill.
Last week he did spend over 6 hours across several days working with cardboard and duct tape.  The project took on different forms as time went on till I said, "Enough!" and rotated the toys (and cardboard) out.
Cardboard being used to build is great.  Cardboard that they finally got board with and laid on the playroom floor, on top of their toys, to walk and run over is something all together different.
Seeing how much effort, time, and care Jack put into that project re-energized me to get moving on a few other projects.  These are things I have been meaning to do and with which Jack can help.  I like these projects because they will incorporate several different things I am wanting him to work on, namely: measuring, counting, numbers, nature study, following directions, working with others, problem solving, physical activity, and helping around the house.
Closet remodel – My closet to be precise.  What it is not is well planned.  This was actually two closets when we moved into this house.  This was the largest bedroom, but the closet that existed contained a chimney, two different ducts, water supply lines and a drain pipe.  That left about 2 feet to hang things, and then it was not right in front of the door.  By combining the two closets we gained a lot more space.  We also moved the ducts to be beside each other.  This made better use of the space, but left a hole in the floor.  The hole is under the laundry lid in the picture. This also mean the flooring did not match.
With everything else that was being done when we moved in, this closet was very, very, very low on the list to have something done to it.  We bought a clothes rack and moved on.  However, as you can see, it does not work well to help keep things organized.  I have a plan, but first, we have to clear out, measure, and draw up a plan.
Washing machine repair – After weeks of going to the laundry mat to do all of our clothes at once, I ordered the part to fix the clothes washer we have here at home.  It is also (1) warmer now, so no worries about frozen pipes, and (2) the garage will soon be more completed.  I found a video online demonstrating how to replace the part.  I also want to think about where we would like to have the washer and dryer in the near future.  After fixing it, I would like to put it back where it will (maybe) stay for quite some time.
Shade garden/Yard work – With non-freezing weather, yard work is in order.  One day will, hopefully, contain general clean up.  Then we can start putting down fabric and mulch/compost to create a shade garden in a part of the yard that received little sun.  I am tired of having a huge dirt/mud patch right in front of my house.  I do not have a drawn up, on paper, everything laid out plan yet.  For now, I was hoping to get started with something before we have another cold snap.
So that is generally how our week is going to work out.  There are some other things happening, as well as a potential meet-up with another family.  So we will take it all one day at a time and see how it goes.