Here is a listing of the recipes I have posted previously in my weekly or monthly menu plans.  I have broken them down into categories: Breakfast, Main dish, Side dish, and Dessert.  If something is not where you think it should be, look in one of the other categories.  An example of this could be Twice Baked Potatoes.  I usually use it as a main dish, but it could also be a side dish.
Breakfast:
Crepes (I find this recipe makes enough for two people. Multiply as needed.)
Deep fried pancakes with warm maple creme syrup
Hot Rice Cereal with Nuts and Raisins
Main Dish:
Boeuf Bourguignon – uses a pressure cooker
Chipotle-Chocolate Chili – from "Don't Panic – More Dinner's In The Freezer"
Dad's Meatloaf with Tomato Relish
Elegant Steak Dionne – from "Don't Panic – More Dinner's In The Freezer"
Greek Meatballs with Mint (Keftethes) – from "Don't Panic – More Dinner's In The Freezer"
Grilled Pork Tenderloin with Apple-Ginger Sauce
Herb Crusted Pork Chops – from "Don't Panic – More Dinner's In The Freezer"
Honey-chipotle Turkey Meatballs
Maple-glazed Pork With Mashed Sweet Potatoes & Parsnips
Pot Roast with Bacon and Vegetables
Red Lentil Dal
Red-Currant-Pomegranate Glazed Ham
Slow-cooker Sweet and Spicy Chicken – video link
Spicy Pan-fried Sirloin Steak with Noodles
Stir-Fried Sweet-and-Sour Chicken
Sweet-and-Tangy Roasted Pork Tenderloin
Side Dish:
Bulgur with Pearl Onions and Almonds
Grilled Potato Slices With Salt and Vinegar
Pasta Shells with No-cook Tomato Sauce
Roasted Sweet Potatoes and Pineapple
Dessert:
Cookie cupcake with raspberry fluff frosting 
Drinks:
Books and magazines I like: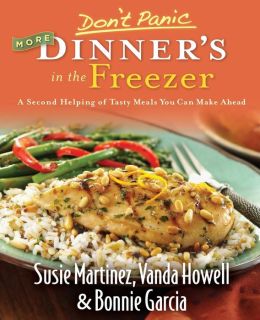 I'm not a fan of all their recipes, but really like several.  Also, they make it easy to multiply the recipes – they give you the ingredient amount for 1, 3, 6 and 9 times the recipe.  They also lay out what you will be doing the day of preparation/cooking and the day of serving.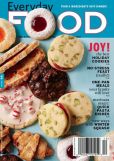 This is the December 2012 edition.  Most editions have several recipes I want to try.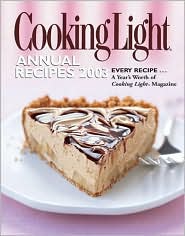 This book, "Cooking Light Annual Recipes 2003", as all the recipes from 2003 in it, all 900+ of them.  They do this each year.  I just happened to pick up the one for 2003 and really liked it.
This post contains some affiliate links.