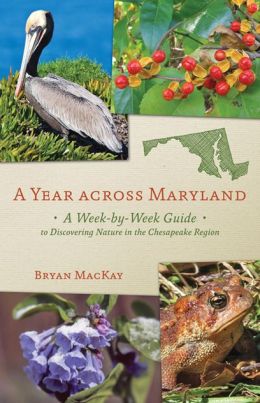 A Year Across Maryland: A Week-by-Week Guide to Discovering Nature in the Chesapeake Region by Bryan MacKay goes beyond a guide book and borders on an interesting text book of nature study.  Bryan MacKay is not short on explanations, descriptions, or diversity in what is talked about each week of the year.
A Year Across Maryland is divided into months, then further divided into weeks.  The beginning of each month starts with a story that is applicable to the time of year.  MacKay then dedicates several pages to each week, explaining plants, animals, geography and other areas of nature study.  All these elements are tied together to give you a picture of the area being talked about.  There is even a suggestion for a destination trip.  Here MacKay does not disappoint.  I was expecting a short paragraph about the location and an address.  What I discovered instead were even more pages talking about the location and what you might find. I was amazed at the amount of information and detail MacKay put into this Week-by-Week Guide.
Another point I appreciated in this book was the variety of plants and animals MacKay covers.  Often you find book on birds or flowers or tree or small mammals.  This book not only contains all those, but also fish, frogs, salamanders, green winter plants, grasses, insects and more.  The readers is exposed to the whole picture, to every part that makes up this unique state.
Maryland is a diverse state.  The eastern edge borders on the Atlantic Ocean, while you have to cross the mountains to get to the western border.  This varied landscape means that not all of what Bryan MacKay talks about in A Year Across Maryland will be relevant to all parts of the state, but he included something for everyone.  It also means that those in neighboring areas or with similar ecosystems will also be able to use this book.
The amount of time and effort put into A Year Across Maryland really comes through, creating a thorough book of varying knowledge.  You will be able to pick this book up and start at any time of the year.  If you are spending time in Maryland or the surrounding areas and wanting to learn more about what you see, this is a book I would very much recommend and wished I had when I lived there one summer.
I received a copy of this book for review from Edelweiss.
This post contains affiliate links.